Joining TQCC
If you have any queries, please e-mail our membership officer @ [email protected]
1
Join us for a taster ride
As with all cycling clubs, members are required to be covered by third party liability insurance and this is included with a Cycling Ireland licence. Potential members are welcome to come out on two 'taster rides' with the club and you can sign a form before the ride which will mean you are covered by insurance during the group ride.
2
If you already have a valid Cycling Ireland licence, and are 'unattached' you can request a transfer to TQCC. If a member of another club, you will need to request a transfer from your current club. TQCC membership fees can be paid via PayPal to [email protected]
3
If you do not have a Cycling Ireland licence, you can register by clicking this link 'Join Cycling Ireland'(90% of our members hold a 'Leisure Licence'). You will be asked what club you wish to register with – select Titanic Quarter Cycling Club and you can pay the relevant TQCC membership fee along with the Cycling Ireland fee via the CI portal.
4
Annual membership of TQCC runs from 1st January to 31st December. Membership fees for 2020 are as below:
18 & over = £20
65 & over = £10
Under 18 = £20
Associate membership (non-cycling) = £10
---
Ride Classifications
TQCC welcomes cyclists of all abilities, and there are a range of club rides organised to cater for all members. Club rides are divided into groups of cyclists with similar abilities. Currently we have 4 group classifications (A, B1, B2, and C), as defined below.
Individuals should select a group ride that is within their ability. If in doubt it would be advisable to start with the lower pace in the first instance, rather than choosing a group that is too fast. With regular practice and time in the saddle, speed and bike handling skills will improve rapidly, and with that will come the opportunity to move up to the next group.
Please note that the group speeds defined below are average speeds on mixed terrain roads. The pace of any group will be higher in strong tailwinds and on descents; lower in strong headwinds and on climbs; and will vary depending on the length and terrain of the ride. It is important that the route terrain be taken into account, as hilly rides will be physically challenging at a much slower pace than on the flat. Details of route elevation can be found in the ride information posted on the TQCC Strava page.
The speeds shown are not a target but are to enable you to select a pace and group to suit your ability.

Ride Style: Fast / Tempo
Average Pace: 17 – 18mph +
Vigorous pace with excellent bike handling skills.
The A group is the fastest pace group requiring riders to have an above average skill set for riding in groups under higher physical stress. The A group is not for individuals who have little group riding experience.
Weekend rides are often 60 – 70 miles, sometimes longer in spring and summer months.

Ride Style: Quite Fast
Average Pace: 16 – 17mph
Brisk to vigorous pace with above average bike handling skills
On a B1 ride, individuals should have the necessary riding skills in a group environment like that of the A group, but not at the faster pace. The B1 group is not for individuals who have little group riding experience.
Weekend rides are often 50 – 60 miles, sometimes longer in spring and summer months.

Ride Style: Brisk
Average Pace: 15 – 16mph
Brisk pace with good bike handling skills
On a B2 ride, individuals should have the necessary skills for riding in a group environment, but the pace will be slightly slower than that of B1. As riders train and progress they may then be comfortable on the faster B1 rides.
B2 weekend rides are often 50 miles, sometimes longer in spring and summer months.

Ride Style: Moderate
Average Pace: 12 – 14mph
Moderate pace, riders should be capable of riding at least 25 to 30 miles
The C group is focused on general fitness and intermediate to good riding skills in a group. It is for those with the physical fitness level that allows them to go moderate distances at lower average pace than that of the A or B groups. Riders new to group cycling and those working on developing their skills should start in this group, and in time may progress to the B group.
---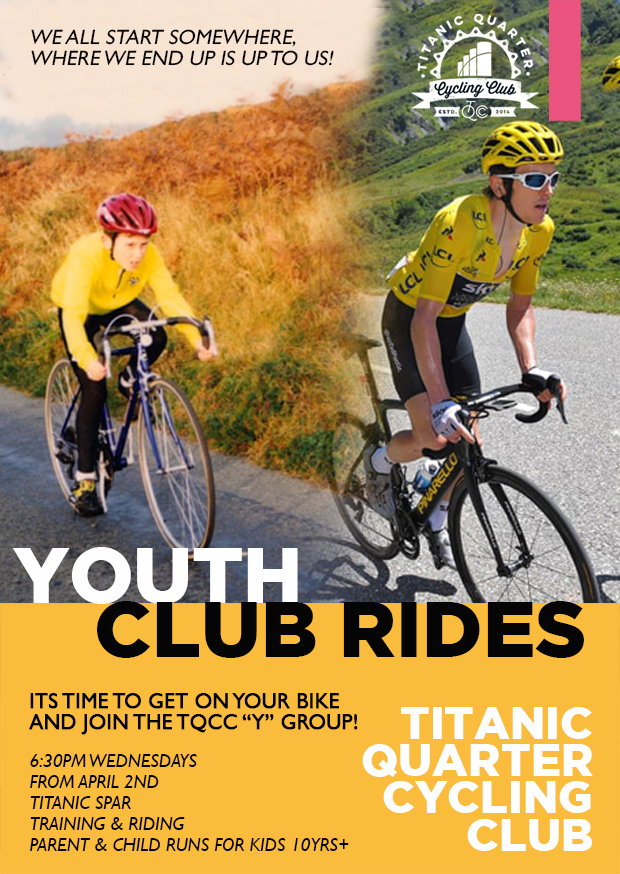 ---
Ride Leaders
A 'Ride Leader' (RL) is a TQCC club member who has agreed/posted the forthcoming route for that particular group ride. The RL will have considered the experience/level of the planned group and roads to be used. Prior to a group ride the RL(s) will explain the route, the predicted pace, calls and the signals to be used during the ride.
While cycling is an outstanding recreational sport, it also involves risks and even dangers. Some of these dangers include but are not limited to: traveling on or crossing heavily travelled roads, winding roads, steep descents, potholes, accidents, unexpected moves of another rider, physical exertion, fatigue, flat tires, and motorists.
Anyone taking part in a TQCC group ride does so on the understanding that they acknowledge the risks recited above, as well as numerous other dangers are inherent in recreational cycling and they agree to assume all risks associated with participation in TQCC club activities and that TQCC Officers/Committee and Ride Leaders are not liable for any injury or damage resulting from, or in any way connected with, participation in club related activities.
---
Riders participating in TQCC Group Rides should
Prepare Gear
Check bike frame is in good working condition
Check tyre pressure & condition
Check brakes are in good working condition
Check lights are in working order & charged for Winter rides
Check front & rear wheels are secure
Check bolt tightness throughout
Check drivetrain is in good working order
Prepare to ride
Choose a ride suitable to ability as per TQCC Ride Classifications
Sign into ride on club Strava account ahead of activity
Take into account their own ability, the route, distance, elevation and the weather forecast (particularly in Autumn, Winter and Spring months)
Wear a helmet!
Bring suitable kit for the ride. We recommend that people bring a minimum of a spare inner tube, tyre levers, a pump and/or CO2 inflator, and a multi-tool.
Ride responsibly
Follow directions of the ride leader
Ride in a safe manner and pay attention to the calls and signals of other riders in your group
Keep your speed smooth and controlled as possible
Avoid overlapping your wheel with the person in front as the wheels may make contact
most importantly, enjoy the group ride!
---
Members Documents